The Essential Reporting Solution for Sage 300 Users
Download Trial Watch video Schedule Demo View documentation
Stonefield Query for Sage 300 is quite simply the most powerful, easy-to-use reporting product on the market for your Sage 300 data.
Stonefield Query provides a step-by-step method to create professional business reports from information stored in Sage 300. Anyone can create detailed reports, high level overview, drill-down, charts/graphs, pivot tables, and more in minutes rather than hours.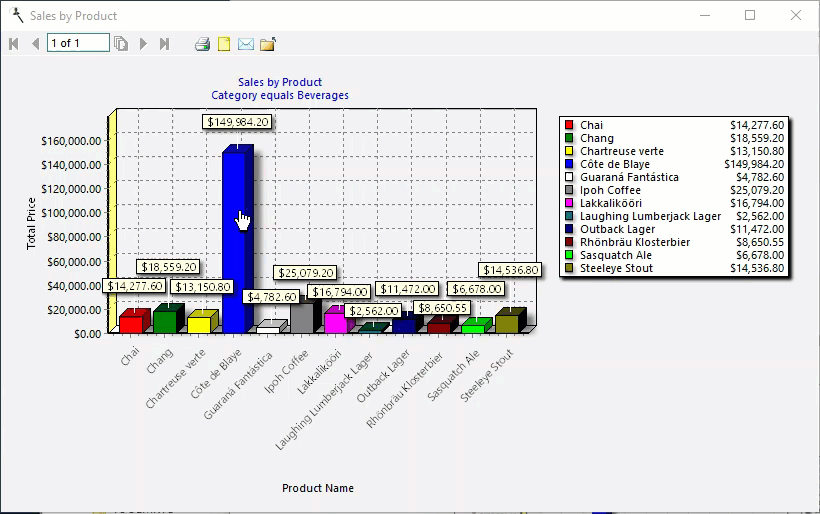 ---
We Know Sage 300
Stonefield Query knows the Sage 300 database structure, and has been delivering industry-leading reporting solutions for years. With three new tiers to fit everyone's budget, it has the following special features:
Sample Reports

Get started immediately with our sample reports! Stonefield Query comes with 80+ sample reports that can be run or used as a starting point for report design, and used with our Basic viewer program in runtime.
Reporting Made Simple

Stonefield Query walks you through the reporting process in 6 easy-to-follow steps so you can build professional reports in minutes, not days.
Report on Optional Fields

Displays optional fields in the table they are associated with rather than in the table Sage 300 internally stores them in, making it much easier to query on optional fields.
Easy Payroll Reporting

Contains user-definable calculations in payroll tables that make creating payroll summary report much easier.
Handles Dates Properly

Automatically converts dates, which Sage 300 stores as numeric values (for example, "20080304" for 03/04/2008), into true date values, which works better for display purposes and for date expressions.
Handles Code Fields

Displays the expected value for many code fields rather than the actual values as Sage 300 stores them so you don't have to figure out what those numeric values mean.
Report on Your Favorite Sage Addons

Can report on Unisales Sales Analysis, Orion Point of Sale (POS), and Norming Fixed Assets data (requires Ultimate).
Module Reporting

Limit users reporting to only modules they have access to and have been activated in Sage 300.
Schedule and Automatically Deliver Reports

Automatically deliver reports via e-mail, file, or printer. Schedule them to run anytime you need them to, and never miss a reporting commitment to your peers, customers, or vendors (requires Ultimate).
Charts, Graphs, and Dashboards

Create bar, line, area, and pie charts as well as series charts. Dashboards combine multiple charts into one consolidated view of your data. Zoom in and out on the dashboard, update individual reports manually, and output the dashboard to file.
Microsoft Excel PivotTable Reporting

Extend your data analysis with Microsoft Excel PivotTables.
Create Your Own Custom Formulas

Define your own custom calculations to use in any report. Use any of the hundreds of built-in functions or create your own.
Filters and Exclusions

Filters allow you to narrow down your results without programming, such as product sales by customer for this year, month, or week. Exclusions allow you to report on things not recorded in Sage 300, such as all companies that bought something last year but not this year.
Multiple Database Support

You can run reports on more than one Sage 300 database. You can even consolidate records from multiple companies into one report (requires Ultimate). For example, you could show all outstanding invoices from all companies on the same report, including showing which company each one came from.
---
Pricing
There are two types of licenses available:
Ultimate (also known as "Report Designer"): this license includes all features. The price for the first license is $3,000 US ($3,900 Canadian) and subsequent licenses are $1,500 US ($1,950 Canadian). Ultimate licenses come with one Basic license at no additional cost.
Basic (also known as "Report Viewer"): has all the features of an Ultimate license except the ability to create or edit reports (it can only run reports created by other users) and the ability to schedule reports. The price for a Basic license is $150 US ($195 Canadian).
Please note:
Software maintenance is 25% per year and is required with the initial purchase.
Basic licenses are available by subscription only and require software maintenance to be kept current.
---
System Requirements
Any version of Microsoft Windows released after 2006: Windows Vista, Windows 7, Windows 8, Windows Server 2008, Windows Server 2012, Windows Server 2016, Windows Server 2019, Windows Server 2022, Windows Terminal Server, Windows Small Business Server, Windows Essentials Business Server (also works in Citrix environments)
512 MB minimum memory (more is better)
50 MB free hard disk space
Scheduled reports are not available in Citrix environments.
Stonefield Query for Sage 300 works with Sage 300 2023 and earlier versions.
---
Sample Reports
&nbsp